The optometrists at Swift Creek Eye Center in Midlothian, Virginia, have over 30 years of experience in prescribing the contact lenses you need to improve your vision while protecting your eye health. Whether you need gas-permeable lenses to address astigmatism or want the convenience of extended wear soft lenses, the team offers comprehensive contact lens consultations and products conveniently on-site. Find out more about the benefits of contact lenses by scheduling a consultation by calling Swift Creek Eye Center today.
---
Contact Lenses Q & A
Am I a good candidate for contact lenses?
Contact lenses are prescription-strength devices that fit over the surface of your eye to improve your vision. You may be a good candidate for contact lenses if you need vision correction but aren't interested in wearing eyeglasses.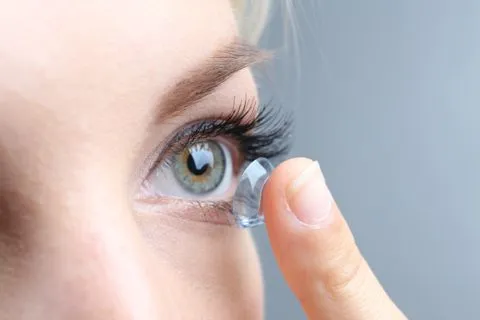 The Swift Creek Eye Center optometrists may also recommend a specific type of contact lens to correct certain eye conditions, such as astigmatism, an abnormal curvature of the cornea that causes blurry vision. They specialize in prescribing contacts in hard-to-fit situations, such as:

Dry eye
Bifocals
Myopia reduction
In cases where you need to correct serious vision issues, the Swift Creek Eye Center staff offers on-site corneal refractive therapy (CRT). This treatment uses rigid contact lenses to gradually change the shape of your eye while you sleep. CRT helps you see clearly in the daytime without having to wear contacts.
Which contact lenses are right for me?
The Swift Creek Eye Center team can determine which type of contact lenses are right for you after a thorough eye exam and vision assessment. Some available options for contact lenses include:
Soft
Soft lenses are made from a soft, gel-like material that allows oxygen to flow to your eyes. There are a variety of soft lenses available, including daily wear, disposable, and extended wear lenses.
Hard
Hard lenses are made from a rigid plastic material that can clear vision and improve issues, like astigmatism, by gradually reshaping the cornea.
Gas-permeable
Gas-permeable lenses are made of a material that's more rigid than soft lenses but more flexible than hard lenses.
Depending on your eye health and lifestyle needs, your Swift Creek Eye Center provider can recommend the best type of contact lenses and provide the resources you need to care for them properly.
What are the benefits of contact lenses?

One of the biggest benefits of contact lenses is they're more comfortable and convenient than wearing eyeglasses, especially if you participate in sports or other activities.
Contact lenses can also be beneficial for correcting certain issues while improving your vision. Because the lenses sit directly on your eye, they can change the shape of your eye for long-term vision improvement.
Additionally, with contact lenses, you may be able to see what's in front of you more clearly and retain higher quality peripheral (side) vision as the contacts move with your eyes.
To find out which contact lenses are right for you, call Swift Creek Eye Center today for a contact lens evaluation.