If you're interested in reducing your reliance on eyeglasses or contact lenses for better vision, you may be a great candidate for LASIK. At Swift Creek Eye Center in Midlothian, Virginia, the experienced optometrists offer comprehensive LASIK consultations before and after your surgery. The team works with a leading LASIK surgeon to improve your vision and boost your visual clarity using the latest laser technologies. Find out if LASIK is right for you by calling Swift Creek Eye Center today.
---
Lasik Q & A
What is LASIK?
Laser-assisted in-situ keratomileusis (LASIK) is a type of surgery that can significantly enhance your vision and eliminate the need to wear corrective contact lenses or eyeglasses.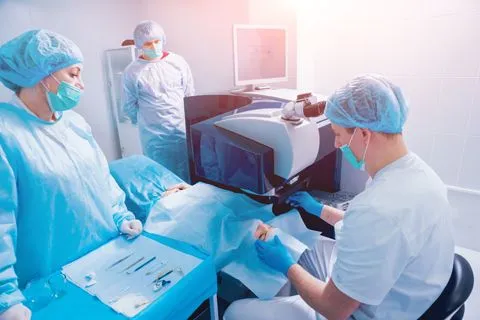 The procedure involves the use of laser technology to change the shape of your cornea to treat common vision issues like:
Myopia (nearsightedness)
Hyperopia (farsightedness)
Astigmatism (overall blurry vision)
The laser procedure is quick, and there's a low risk for complications. Also, recovery and downtime from LASIK are minimal.
What LASIK services are available?
The optometry team at Swift Creek Eye Center offers comprehensive care before and after your LASIK procedure. The staff works closely with world-renowned LASIK surgeon Dr. Mark Whitten of TLC Laser Eye Centers.
Initially, the Swift Creek Eye Center team can determine if you're a good candidate for LASIK surgery after completing thorough eye and vision exams. Your provider also reviews your overall health to ensure you can safely tolerate the procedure.
Following your LASIK procedure, the Swift Creek Eye Center staff provides comprehensive care to ensure your eyes are healing correctly, and your vision is improving.
How long does it take to recover from LASIK?
Immediately after your LASIK procedure, it's reasonable to experience some cloudy or blurry vision. Within 24 hours, you should notice a continued improvement in your vision, and you can expect to visit Swift Creek Eye Center for an evaluation the day after your LASIK treatment.
During your evaluation, your provider can determine when it's safe for you to return to work and your usual activities based on the healing progress of your eyes and the quality of your vision. They check the accuracy of your vision and the general health of your eyes to ensure there aren't any complications.
Your provider can also discuss any limitations you may need to follow, such as avoiding rubbing your eyes and limiting strenuous activities, as your eyes continue to heal.
The Swift Creek Eye Center team continues to provide long-term evaluations and eye care following LASIK through your routine eye exams.
If you want to learn more about the benefits of LASIK for improving your eye health, schedule a consultation at Swift Creek Eye Center today.